Net Fests 2000

Yes, we are still blasting and blowing things in the year 2000! Haahaaa!

| | |
| --- | --- |
| | |
| Left to right: Xydexx, Japi, Wogewom | Left to right: Xydexx, Mike Hopkins |
| | | | |
| --- | --- | --- | --- |
| | | | |
| Yipe! | Aaagh! | Whoa... | Erm... |
| | |
| --- | --- |
| | |
| Some of us couldn't wait for the food, so... | Ahhh, nothing like a big 'ole fire for the meat! |
Sometime, 2000
This netfest marks the final one we will most likely have at Teufel (Jay's) house, as his future plans involves him moving out to...um, glorious...no, uhhh, beautiful...um, well...just plain Texas. >:) We had a great time playing Unreal Tournament the WHOLE TIME...>: ) It just like happened, you know, by itself. We did actually get food cooked too, lotsa pussy doughnuts, strangely angled photos and LAMES.... We had a lot of fun times here with memories of all sorts, we're all very thankful for Jay and Chuck for having them in their home.
---
The Bomberman Console Players
Jim, Mark, I dunno
I dunno, I dunno
Chris, John, Coming Out Boy
Lion-O's best boy, I dunno, I dunno/Idunno, Svarog, Dan, Waz, Jason
Chris, Dan, I dunno, I dunno, Chris
| | |
| --- | --- |
| Waz waits patiently for somebody to come out of the closet... | |
Known Professional Mouse-Jockeys
A sober Hellmaster
Rogue Scholar and his favorite past-time.
Who let him in?
A not so-sober Shroud
A Fuzzy Rat
They let Kasta out on the condition he be placed in a quiet, padded room
A drunken female-unit
Another vagrant calling
himself Pure-Evil.

| | |
| --- | --- |
| A Fuzzy Female Unit | |
Fat Rat Makin' Cookies.
Or puttin the stove out.


Hmmm, this explains
the lousy videotaping...

Shroud being hunted.
Deadbeat hunting Shroud.
Experienced older hunter hunting both of them.

Back: I dunno
Front: Endure_Dawn_Death
Actual quote: "Uh, we don't know what we're doing here, I died 1 thousand times in the first 2 minutes of the last Unreal Tournament match."
???, 2000
This page was redone after a stupid server-error killing some of the html script. So I don't remember what went on asides from someone coming out of the closet, more people dying and someone eating too much food. (: It was fun though, you should'a been there.
We did bust our Unreal Game of the Year edition for a long period of time since it was just out. GOTY has 3rd party maps and weapons and mods already included in the package. Then it was on to marathon games of Tribes!
Thanks goes to Mr. Heritage for bringing food and helping out at the grill to make more burgers and stuff. We really did go through a lot of food at this netfest. There was a second run for burgers later on after the first wave was devoured.
The console-couch wars raged heatingly from both a wild bomberman match and a side o'foreplay (see above picture). Later, much later, at 5:30am, some of us partook in a calming game of POWER WORM FISHING. YES, FISHING. WE'RE TALKING COMPUTER FISHING HERE, FOLKS! Well at 5:30am what do you expect? >:)

Left to Right: G.I.Joe, Rogue Scholar, Booger Boy, Hope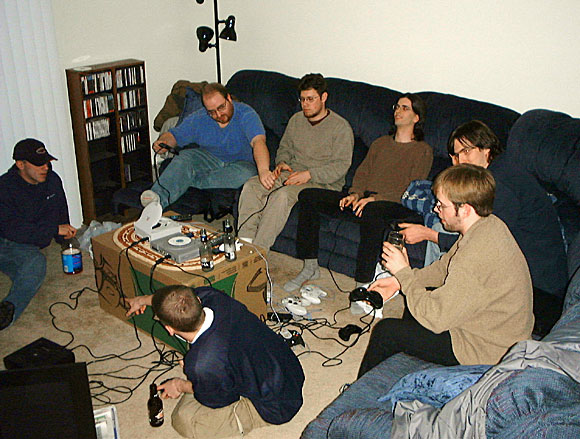 Left to Right Clockwise: G.I.Joe, an over-zealous Pure Evil, an unsuspecting Pocket-Rocket Boy, White Shadow, Hell Master/Wogewom, Shroud, Drunken Munk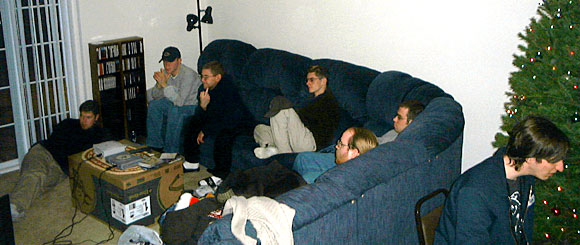 Left to Right Clockwise: Billy Joel, Snake-eyes, Da Middle Man, Brophey, Rudolph the sloshed-nosed drunkard, Pure Evil, Hell Master
Rogue Scholar
The Thinker
(If you look closely you'll see smoke!)
Hope
Hell Master
Stokin' Jim & Strokin' Joe
Shroud
Windsinger
Rudolph the Sloshed-Nosed Reigndeer
Billy Joel
Left to Right: Ronald Reagan, Pure Evil, Orange Fluff, Shroud
A confused onlooker marvels at command central; the server and cd-rom burning station. Also serves as Pure Evil's mad hacking control room which pays for all of this.
Rogue Scholar gets instructions on using a windows computer from a penguin.
Big Jim and Hope in the grunge pit.
White Shadow and Wogewom in the holding tank.

That guy, Shroud and Thinking Dude.

The penguin continues his windows instructions to G.I.Joe, White Shadow, Billy Joel and Rogue Scholar.
Big Jim relaxes after kicking the shit out of a confused Guy and Shroud.
Note the evil penguin trying to sneak up on the cute fuzzy thing.

Left to Right: Windsinger, G.I. Deadbeat, Pure Evil
Hellmaster meets the evil penguin of possession!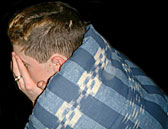 December 30th and 31st, 2000
This was a great two-day netfest despite several actions to ruin everything by the evil Penguin of Possession. It was mostly an old-school players reunion of sorts. The dreamcast had plenty of new games, like Phantasy Star Online and Dead or Alive Limited Edition. Plenty of Tribes action all around, some Unreal Tournament, and even a shot at Shadow Warrior, but unfortunatly it wasn't stable under windows on everyone's machine.