Net Fests 2004
Uuggghhh, too much food....

Humiliation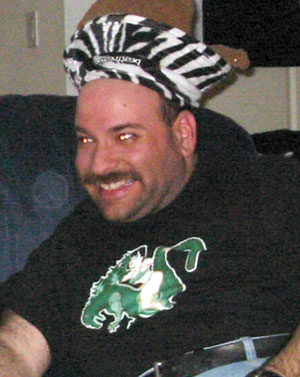 Thank YOU Marc!

LAN PARTY




Left to Right:
Funny Man, Deadbeat, Spooch, Lime Green Goth, AC Guy

Left to Right:
Fat Rat & Snowman


Left to Right:
Svarog, Snapcase, Zeus, Spooch, Lime Green Goth, Funnyman, AC Guy


| | |
| --- | --- |
| | |
| Marc shows off da frenchy p-r0n to Hen & Fat Rat | Snap is bewildered and beside Svarog, who is behind Lesh. |


Left to Right:
Funnyman, Zeus, Spooch, Lime Green Goth, AC Guy

Left to Right:
Doom Prophet, Blue Brat, Japi, Xebec, Zeus, Kasta

Left to Right:
Funnyman, Zeus, Spooch, AC Guy

Left to Right:
Stitch, Zeus, Funnyman, Spooch, Lime Green Goth, AC Guy, Sonic the Hedgehog

Mr. Counterstrike himself, Zeus.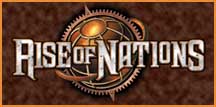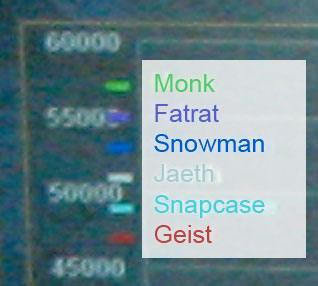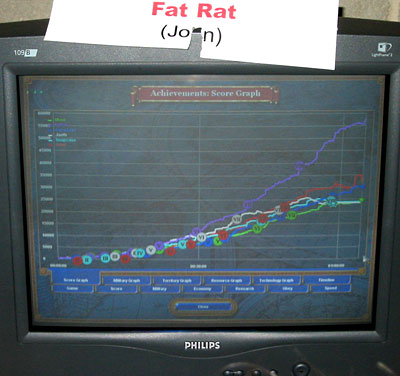 Click image for larger screenshot.

The new drug for people who suck at FPS. :D
PEOPLE

Lots of food.
Left to right:
Marc's Head, Snapcase, Blue Brat, Roxikat, Lesh's Nose
Left to right:
Keith, Roxikat, Doom Prophet
Left to right:
Keith, Roxikat, Doom Prophet, Snapcase, Lime Green Goth, Marc
Front Left Floor:
Geist, Funnyman
Left to right:
Snowman, Roxikat, Marc, Fat Rat, Kasta Fox
Left to right:
Keith, Geist, Japi, Xebec's Rug
Tier 1
WINNER
Svarog
Doug vs. Funnyman
Cyber Jezzus vs. Keith
Geist vs. Doom Prophet
Spooch vs. Funnyman
Chuck vs. Snapcase
Spooch
Zeus vs. Blue Brat
Lime Green Goth
Svarog


Geist
Spooch

Spooch
Blue Brat
Lime
Tier 2
Svarog vs. Doom Prophet
Spooch vs. Blue Brat

Svarog
Spooch
Final Match
Svarog vs. Spooch

Spooch

PRIZES
(unclaimed for our next match!)
Geist vs. Doom Prophet




Kasta Fox
Zeus
Lime Green Goth
Blue Brat
Spooch WINS!
Again.


Funnyman
Morose Lucifer
Another one that sleeps the hrdcore way.
Heineken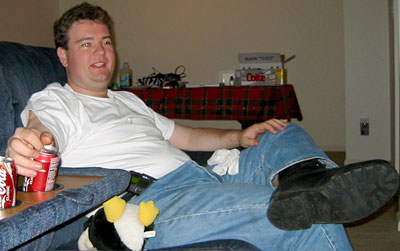 Deadbeat lounges after some 0wnage.
"Yeah it was pretty rough, I got 0wned pretty badly...a lot..."
| | | |
| --- | --- | --- |
| | | |
| Marc is just odd. | Svarog | Doom Prophet takes his defeat out on The Cheat |
| | | |
| --- | --- | --- |
| | | |
| Hold the phone, Fat Rat plays a FPS! | pr0n owning people with a monitor screen saver. | Japi tries to hide at his computer. |
And now, more...
COMMAND POSTS


A real command post in Japi's basement.
This controls direct access to the linux servers.
Yes, that's plural.
Game Server, File server, Media Server & Firewall/Router.
Blue Brat's Bratbox.
A true command post warrior.
Funnyman constructs a command post.
The projector command post was failure in part of their being too many people in the basement to use it. WTF.
Snowman's command post.
Note his second unit to the bottom right.
It IS as tall as that chair.
March 5th, 2004
And we mark the start of yet another year of Lan Gaming! Woohoo!
We played the Unreal Tournament 2004 demo at this netfest. Onslaught is the favorite mode of play with us, though it's tough for the new people to get involved since there's a lot of finnesse in the game that isn't apparent. But still, UT2k4 is definitly a superior game to UT2k3, THANKFULLY.
We got in a couple great maps of Enemy Territory also. Though a full campaign was not played, it was still a good set of rounds.
The Rise of Nations infestation continues with another soul lost to the game, Snowman. But a successful networked game was done with Monk & Jaeth connecting remotly.
A big thanks goes to the Adrenaline Cafe guy that brought the extra Alien Ware computer. It was used by Fat Rat to play Rise of Fuckfaces Nations.
Spooch and Lime Green provided the Air Hockey T-Shirt prizes... which Spooch won... So they will go up as prizes again at the next party.
Man do we have a lot of food at these things. It's pretty common with everyone to feel like a slug at the end of the weekend from the pigout. And of course you HAVE to eat what's laying around. You can't just ignore it. (: Thanks to everyone who donates food though, better have too much than not enough.
Yes, I'm starting to get tired of the Command Post joke myself.
We had multiple Cheat plushes bouncing around the house. Very cool toy if your a fan of Homestar Runner.
We still be playin' Burnout 2. This time it was on the Gamecube. Still a great party game however.